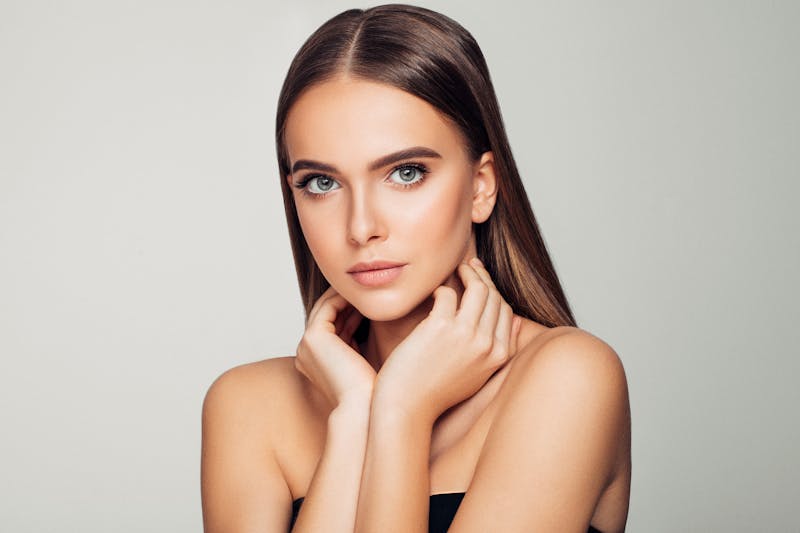 Dermal fillers represent a giant leap forward in cosmetic science. These injectable compounds mimic human skin tissue and can be used to fill in deep wrinkles, lines, and folds, as well as reverse age-related volume loss, improve definition in the mid-face and jawline, and restore a supple, youthful appearance. Whether you're concerned about marionette lines, nasolabial folds, deflated lips, or hollow-looking tear troughs, dermal fillers can rewind the clock.
Many fillers are engineered with hyaluronic acid (HA), a biocompatible substance that binds with water molecules to hydrate and heal the skin. HA is abundant in youthful complexions, yet begins to subside as we age. By infusing the skin with an injectable form of hyaluronic acid, dermal fillers can beautifully restore fullness and luminosity, boosting self-confidence in the process.
Common Cosmetic Issues Addressed
Nasolabial folds

Marionette lines

Smoker's lines

Thinning, deflated lips

Hollow or flat-looking cheeks and mid-face

Volume loss in the temples and jawline

Jowls

Dark circles under the eyes

Tear troughs

Asymmetrical facial contours

Wrinkles, lines, creases, and folds

Nasal defects in the bridge, tip, or nostrils

A weak chin
What to expect during treatment
Dermal filler treatments do not require any anesthesia, but patients may opt for a topical numbing agent prior to their session to ensure their utmost comfort and relaxation. Your practitioner will then use a surgical pen to mark the treatment spots as decided upon during your private consultation at our state-of-the-art Tribeca or Upper East Side locations. Your filler will then be painlessly injected in a strategic and conservative fashion. The entire appointment takes fewer than 30 minutes.
Downtime
One of the primary reasons why so many patients choose dermal fillers for cosmetic enhancement is that they can be administered with no anesthesia, incisions, scarring, discomfort, or downtime. After your session, you will be able to return instantly to your normal routine, whether that means going back to work, resuming your school schedule, or just taking the rest of the day off to enjoy your new look.
Minor swelling, redness, temporary numbness, or tenderness may be present at the injection sites. These side effects are minimal and typically fade by the end of the day or the next morning. You can apply an ice pack to help alleviate any lingering pain, and makeup can be worn to camouflage any discoloring.
Results
Results after dermal fillers are usually evident quickly. You will see a plumper, firmer, and noticeably more youthful appearance that continues to improve over the course of several weeks. While dermal fillers don't last forever, your outcome will continue to impress for 6 to 24 months, depending on the formulation chosen.
Dermal fillers are a good match for anyone who desires more dramatic changes than can be achieved with over-the-counter skincare products, but who isn't quite ready for a significant facial surgical procedure. Good candidates are mentally and physically healthy, are non-smokers, and are positive and realistic in their outlook towards treatment.
In order to tell for sure if dermal fillers can accomplish your aesthetic goals, you will need to undergo a detailed evaluation with one of our knowledgeable, compassionate practitioners. While dermal fillers can be instrumental in reducing many of the most blatant signs of aging, they are not able to address moderate-to-severe skin laxity. In those cases, a surgical procedure may be recommended.
For appointments for Dermal Fillers with Dr. Shari Reitzen, please call our office at 347-218-9640 to schedule.